Do you want to get higher in Google? Just like you, this is the wish of many entrepreneurs. Higher in Google means more visitors and most likely more customers.
How Google works and links 
Google wants to deliver the best results for the users of their search engine (their customers) and they have the following system for that. 
When something is searched on Google, the searcher receives the best pages that are relevant to the search. 
How does Google determine this ranking? 
A summary answer is that the two most important pillars are the quality of the content and the authority of the website and page.
The authority of a website is mainly determined by the number of links pointing to a website. In addition to the number, Google also takes the authority of the website that points the link(s) to a website. 
With a tool called Mozbar it is possible to quantify website (or domain) authority (DA) and page authority (PA) on a scale of 0 – 100. With a DA score of 1, a website is virtually untraceable, on the other hand, websites with a score of 100 hugely popular websites such as Youtube and Facebook. 
The page authority indicates the popularity of a specific page and thus topic on a website.
Link building
Link building is the activity whereby a company increases its website authority by getting links from authorities on its keyword/topic. 
There are three steps that are important to any link building campaign. 
1. Determining the right keywords based on budget / time / goals 
What can be said with certainty about link building is that it causes a snowball effect because:
The more links there are, the more people visit a website.

The more visitors there are, the more links will come automatically (provided the quality of the website is good enough)
Link building is a long-term investment where it is not possible to calculate exactly how much and when it will pay off because it depends on variable factors. However, a good estimate can be made by analyzing the factors. 
Factor 1 – The search volume and purchasing power on the keywords 
It is important to focus on words that people actually search for and that these are words that interested people type. The search volume of a keyword can be found out with Google keyword planner. For purchasing power it is necessary to think logically. As an example, it can be assumed that a search query that contains the word "buy" has more purchasing power than a keyword that starts with "how works".
Figure 1 – Google Keyword Planner ranks higher in Google in the Netherlands

Above you can see the monthly searches for "higher in google". The competition and suggested bid give an indication of how competitive the keyword is. Keep in mind that this is about competitiveness in AdWords and not Google's organic search results. 
Factor 2 – The current DA and PA of the competition. 
The current authority of the highest result in Google determines the competitive strength. With the Mozbar tool, that authority can be measured on a scale of 1-100. 
Figure 2 – Top 3 Organic Results at Higher in Google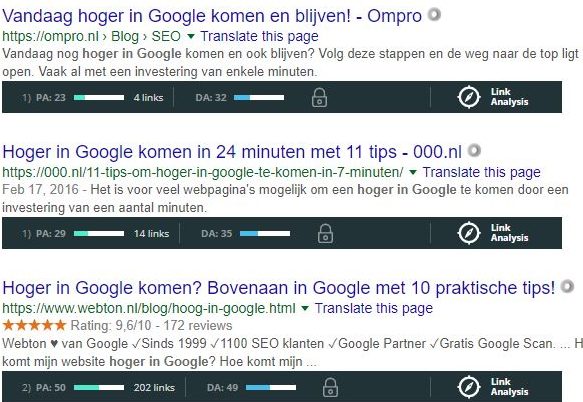 The example above shows the top 3 competitors for the page you are currently reading. It gives a good insight into what it takes to get to the top of this search. Namely how much should my DA and PA be, how many links should I have and how authoritarian should those links be. 
Factor 3 – The future DA and PA of the competition. 
The number 1 provider is not just there, they are also busy with link building. It is important to take this into account and this is the biggest reason why it is not possible to estimate exactly what link building yields. The other reason is the success factor in getting the links. In addition to approaching, someone needs to be convinced to post a link.
Factor 4 – The percentage of website visitors who eventually become customers (conversion percentage) 
This can be calculated by dividing the number of customers (who enter through the website) by the number of visitors and then times 100. 
Factor 5 – The purchase price and sales price of product( en) and/or service(s) 
More visitors are needed with the same conversion percentage when products are sold that do not realize a high turnover. These products/services concern mass, so this is also a factor that must be included in the calculation.
2. Create number one worthy content for a keyword
It is easy to find out who is the best for a certain keyword. 
If you want to create number one worthy content, you have to start with the current number one. 
Analyze the page and website of the best for a particular search and see what's there but more importantly what's missing! 
Note the following properties: 
The layout, could it be better?

The structure 

The legibility 

Humor, is the text entertaining in addition to being informative? 

Certain functionalities that are missing or could be improved (eg video or audio) 

How detailed the explanation is.
For the keyword higher in google, Ompro is our competitor and is above our search results because our website has just been renewed and not much has been done on link building for this page. This is a conscious choice because this competitor is a bigger player than Bamboo Marketing and therefore more budget to be at the top for this keyword. 
However, when we analyze their page there are things to improve, for example adding a video. If we really want to be at the top of Google, this is one of the opportunities that must be used to offer a unique experience for people who want to get higher in Google. 
3. Build a link network by selling your knowledge 
Note: Selling your knowledge is a lot easier when it is described in a top quality page.
The starting point is again the competitor on the same keyword. Mozbar gives the ability to find out links pointing to the current number one. These websites are likely links or.. leads for your knowledge!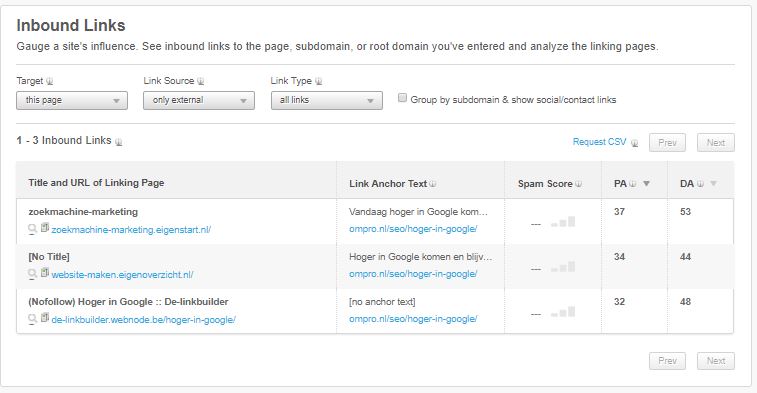 Above you can see the number one links and the only links they have are from home pages. Home pages are another story in itself. To keep it short, a rule of thumb is that home pages should be treated with care because Google can (automatically) penalize websites with too many links from home pages. This is because these links are of high authority and easy to get. This goes against Google's vision of delivering only the best of the best search results to their customers. 
Approaching the leads can, for example, be done via email. Below is a personal script that can be used for inspiration. Keep in mind that personal mails or calls will always work better, the advantage of a script is that it is scalable. 
Dear Sir / Madam,
Today I was looking for information about "keyword" and ended up on "page + website". Good information and fun to read! What I found particularly interesting was "name something that you genuinely found interesting". 
The reason for this mail is because I saw the link to "Competitor" and I wrote a few things about this myself: "link to your page". I would really love it if you could take a look at it, and if you find it interesting if you could also put a link to it. 
Hopefully see you soon! 
Kind regards, 
Jorick Sikkes 
Then keep track of which websites have been approached and what the status is with a Link Building template.