With a good target group analysis, it is ultimately determined which target group best matches your product and/or service. 
It is important to select specific target groups in a target group analysis. In this way, searching customers will be attracted to your website much faster and it will bring in more customers. 
For small businesses, creating a niche is often the only way to compete with larger parties. This is something that larger parties can do much more difficult, because they need to have a large share of the market.
A target group analysis helps you to respond more effectively to the touchpoints of your potential clients. The more you learn about the specific problems of your target audience and how your product or service can help them, the better you will be able to convince your potential clients to do and stay in business with you. 
How do you make a target group analysis? Here are the 5 steps. 
Step 1: Determine the goal of the target group analysis
This refers to the angle from which the analysis will be approached. 
For example, your goal may be to: Create 
A strategic (marketing) plan for your business

Measure existing customer satisfaction

Test brand awareness among potential customers

Understand the interests and behavior of potential customers better. 
Define your goal, take the time for this, because based on the goal you can determine whether certain questions and information are relevant for your target group analysis. For example, if you want to know more about your potential customers, you ask yourself questions such as: Who would buy my products? What characterizes them?
When the goal is to measure the satisfaction of existing customers, it concerns questions such as: What do our customers think of our products? Why do they think that? Is there a relationship between the characteristics of customers who give a high or low rating? 
Step 2: Formulate main questions and sub-questions 
In the second step, you examine what you need to know to achieve your goal and where you could collect this information. You do this by formulating main questions and sub-questions. To help you on your way, there are a number of categories of data with associated main questions and sub-questions. 
Demographic data
Data related to age, gender, family composition. Also called personal data. 
Matching questions:
Which age category does your target group fall under?

Is there a dominant gender that buys your products or sits on your website? 

What is the family composition of your target group?
Geographical data
These characteristics mainly have to do with the topographical location of your target group. 
Related questions: 
Within a radius of how many km are your customers located? 

Where in the Netherlands are most customers located?

What are the interests of the people in "province or city"?

What is the climate in this area? 

Does culture or tradition play a role? 
Social economic data
Social economic data is about the place on the social ladder from a social and economic point of view.
Related questions: 
What is the education level of (potential) customers? 

Which professions do your (potential) customers practice? 

How much should our target group earn if our product is to be interesting for them? 

Are our customers often decision makers/managers/HRM?
Psychographics:
Psychographics are generally people's opinions. Examples of these characteristics are:
Which political party is most voted for? 

Which lifestyle is characteristic? 
Domain specific data:
The level of involvement: 
How involved is your target group in relation to comparable products or services? 

Is the purchasing decision process long and complicated or short and simple? 
The degree of product, ownership and use: 
What percentage of the target group you determine owns a certain product? 

Which factors are important when purchasing your product? 

Are there specific things that the product must meet?
The nature of the product use: 
How does the product work? 

How is the product used by the target group? 

What is the product's right to exist? 
Differences in moments: 
Does the use of your product/service depend on certain moments
Brand specific data:
The degree of awareness of your product/service:
How well known is your product among the target group? 

What is your current market share and what potential could you achieve in this area? 
The attitude of your target group towards the type of product:
What is your target group 's attitude towards the type of product/service you offer?
Buying intentions:
Which factors determine whether your target group converts ? 
Buying behaviour:
On the basis of which aspects does the target group ultimately make purchases? 
Step 3: Source determination
When you have completed the second step, you now have a list of questions for your audience analysis. Next, it is important to consider the sources that are needed to obtain the data. 
Below are some examples of resources you could consult:
Your (potential) customers, where you retrieve the data about them through interviews or surveys. 

Statistics Netherlands (Central Bureau of Statistics) 

Social Media Chamber of Commerce 

Province websites where often many statistics about the region can be found. 
Finally, important online sources where you can learn a lot about your target group: 
Google Trends where you can gauge interests and trends in specific regions 

Google Keyword planner where you can find out the interest and competitiveness on keywords

Google Analytics where you can analyze the behavior of your website visitors 

Hotjar where you can see exactly how people navigate through your website.
Google Analytics is a tool that we want to emphasize because it can tell you a lot about your target group. Here you can get concrete numbers of the demographics, interests, geography, behavior and even the technology your target audience is using. See an example below: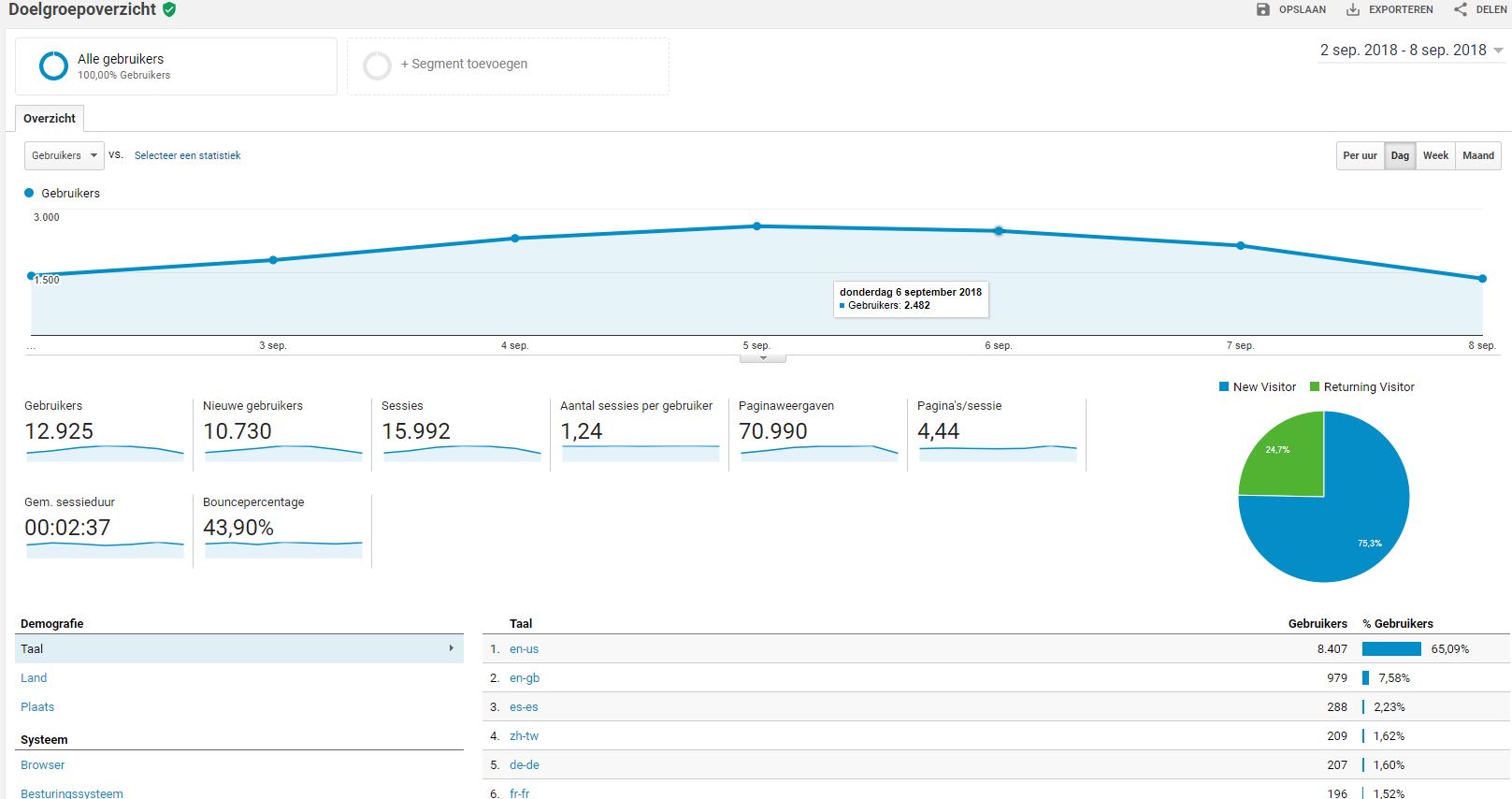 From this data you can extract information about how interested people are in your website and break it down into segments by age, country, gender and much more.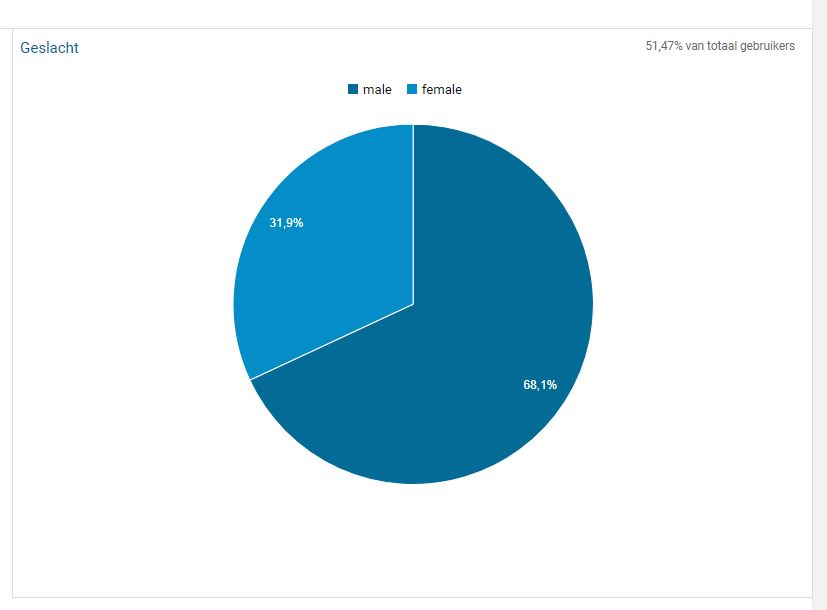 You can learn a lot about who your target audience is from the visitors to your website. Do you want to perform extensive target group analysis via Google Analytics? We are specialized in this and can help you further. Call us on +31 (0)85 130 24 37 
Step 4: Collect and summarize
Now that you have determined which sources you will consult to answer the questions, it is time to get started. Consult the resources and gather as much information as possible that can answer your questions. Be sure to summarize the key data you find as you consult the various sources. 
Step 5: Conclude and Discuss
The information has been collected and summarized. Conclude your findings by answering your questions with the knowledge gained. Finally, you state in the discussion how the target group analysis could be even more extensive, for example by consulting additional sources that have not yet been included. Also describe why certain sources were not included and which questions were omitted. 
Example target group analysis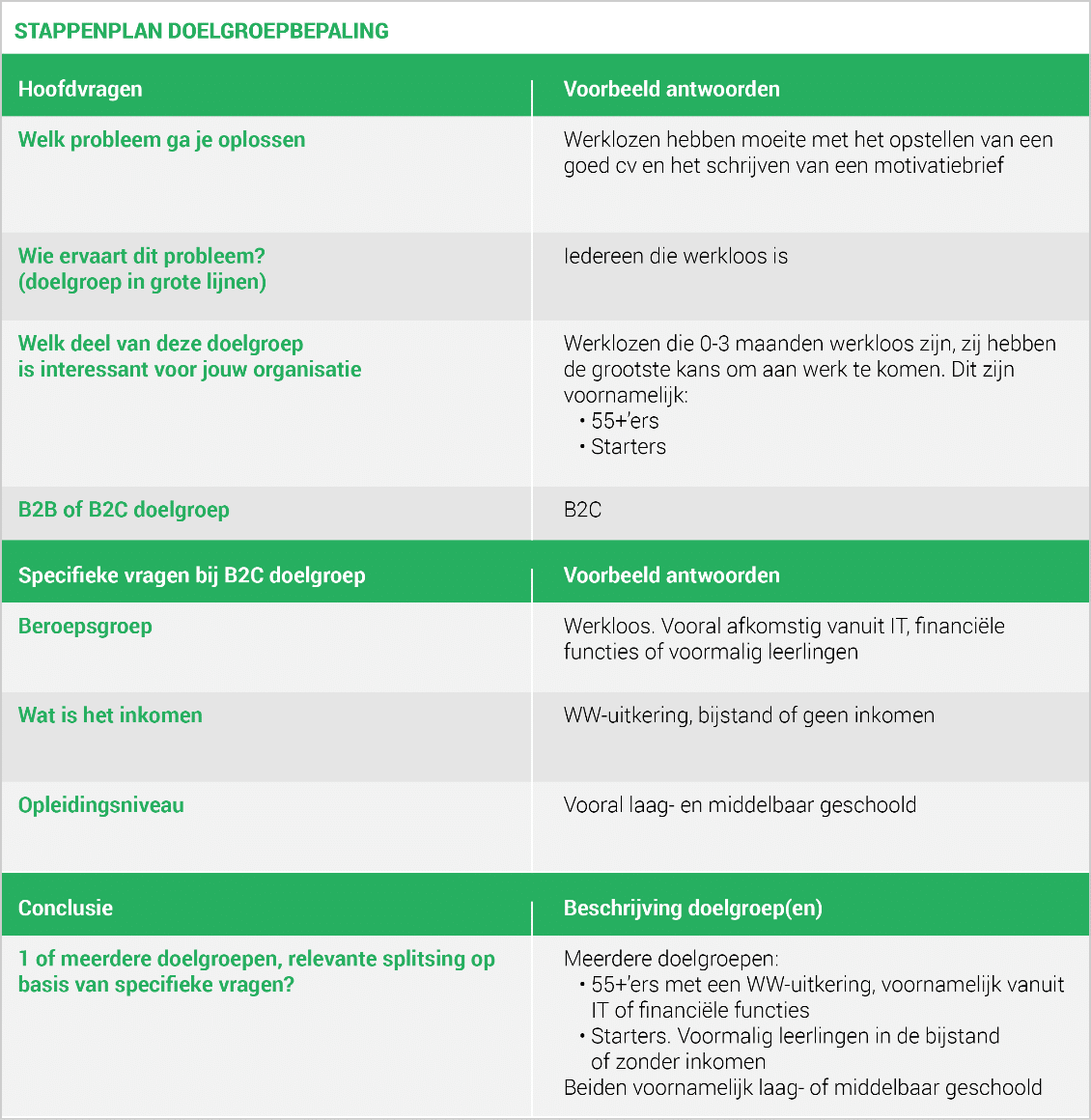 Example of a target group analysis – source: Webinar 
Target group analysis technique – Personification 
A persona is a generalization of a target group in a person. Check out the image below:

This technique is often used to describe target groups. 
Would you like to know more about target group analyses? 
This article is a mix of our own knowledge and the sources below. Here you can find more information about making a target group analysis.
Do you have any questions about making a target group analysis? Leave a comment below or contact us at the number or email address at the top of your screen!